Better decisions through better information
CodeRedTO is a volunteer-led transit advocacy group in the Greater Toronto and Hamilton Area (GTHA) founded on the principle of better decisions through better information. We provide documented facts about transit vehicles, modes, options, routes, and proposals, to assist GTHA residents in understanding and evaluating transit information, projects, and ideas.
We are not a lobby group under municipal or provincial legislation, and are not controlled by any transit agency, any union, any elected representative, or any business. We received limited grants from Metrolinx in 2013, the Toronto Atmospheric Fund in 2015, and the Move the GTHA collective in 2016 and 2017, to pay for minor expenses related to encouraging community conversations and distributing better information (i.e. printing, room rentals, and creating buttons). Much of these grants have been subsequently donated to other community organizations working in public engagement and transit advocacy. (Questions about our financials? Ask anytime.)
CodeRedTO is a collaborative group and all voices are welcome to participate in improving the quality of information available around transit. We believe that there are multiple modes of transit and multiple possible solutions and multiple sources of funding, and that all options should be considered rather than just one. We explicitly do not believe that light rail is always correct, nor that subways are always correct. We explicitly do not believe that public sector and private sector solutions are mutually exclusive, and we do not advocate for specific taxes but rather for rational discussion of capital and operations funding required to address the service needs of the region.
We host and participate in public meetings and events to share information, and distribute information online and in person. We are available to present for any group or elected official wishing to include more data on transit-related topics in their event. Contact us any time!
Where did CodeRedTO begin?
On the day he took office Rob Ford tried to cancel Transit City, a previously-approved and funded joint municipal-provincial-federal project to use a set budget of $8.7 billion (2010 dollars) to build fast, reliable and affordable light rail transit (LRT) in areas of Toronto that need transit improvement severely:
Finch Avenue West in Etobicoke
Sheppard Avenue East in Scarborough
Replacing and extending the aging and unreliable Scarborough RT line
Eglinton Avenue from Kennedy Station in Scarborough to Black Creek near Etobicoke
The lines shown below were fully funded (according to the completed 2010 Environmental Assessments) from the province ($8.4 billion (2010$)) and federal government ($350 million).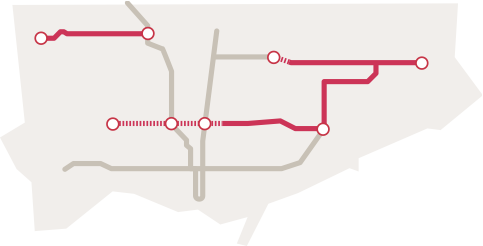 Instead of building three rapid transit lines in Toronto's suburbs, Mayor Ford negotiated with the province to bury the Eglinton-Crosstown line for its entire length, leaving Finch West, Sheppard East, and Malvern with no rapid transit. This negotiation included Toronto paying massive cancellation fees, as work on Transit City was already underway. The province estimated that cancelling Transit City would cost the city at least $65 million. Added onto that another $70 million to buy new buses for Finch and Sheppard, as they would soon be over capacity with no new light rail to relieve the congestion.
A rational consideration of the competing options (underground on Eglinton and no other rapid transit anywhere, or the already under construction light rail lines) led many to be concerned, as the per-kilometre cost, and the number of residents served, were dramatically different. CodeRedTO distributed this poster to help contrast the proposals: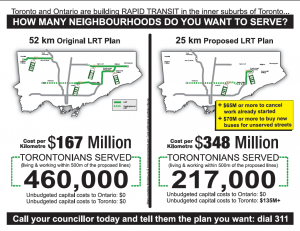 Modified image courtesy Toronto Environmental Alliance, used with permission. torontoenvironment.org
Since then, CodeRedTO has continued to hold public meetings, meet with the TTC, the Premier, the Minister of Transportation, and many councillors to ask about their transit concerns, and to work with partners within the Move The GTHA collective and other groups to improve the quality and accuracy of transit discussions in the GTHA, and to support existing planned & approved projects.
CodeRedTO also makes members available to work with agencies on projects such as the Scarborough Subway Extension Stakeholder Advisory Group, the Relief Line Stakeholder Advisory Group, and others.
CodeRedTO is available for media questions as well, speaking as advocates for more and improved transit across our region.
Executive Directors: Cameron MacLeod, Joe Drew