Today CodeRedTO's Executive Director, along with several members of our partner organization Move The GTHA, met for over an hour with Ontario Premier Kathleen Wynne and Minister of Transportation Steven Del Duca.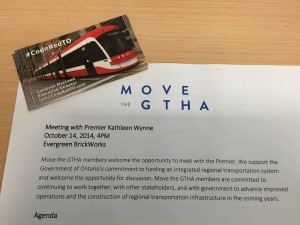 The meeting was a frank, wide-ranging, and engaging discussion of transit goals, priorities, and advice, including our hopes to see both short- and medium-term "wins" to bring better transit to more GTHA residents sooner. Topics discussed included governance, current projects, future project decision-making, public education, and potential future revenue streams. We were pleased to have significant give-and-take, and to make clear our interest in continuing to push for better transit and less political interference.
Members of the Move The GTHA collective and CodeRedTO look forward to continuing our discussions with the provincial government.