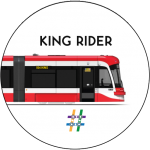 After 2 of 12 planned months in operation, the King Street Pilot is
showing significant positive effects
for riders of the 504 King streetcar, who make up a very large proportion of the users of King Street, both during and outside peak. It is also showing effects, proportionately smaller, on car drivers.
What do we know so far? (Torontoist's Steve Munro)
Streetcar travel times across downtown are faster than before the pilot, although the averages reported by the City are smaller than improvements cited by riders who praise the faster service.
Demand on King is up as riders left behind by full streetcars can attest, but the TTC has published only one numerical before and after comparison.
Route capacity is limited by the number of available TTC vehicles, although larger new cars appear one by one as they arrive from Bombardier. However, the capacity actually operated is still below the level of early 2017.
Traffic and transit speeds on adjacent roads, notably on Queen, have not been affected much by the pilot itself, although they are still subject to the effect of construction projects.
Enforcement of the new traffic regulations remains spotty, after an initial blitz, and problems remain at key intersections where cross-street traffic can block King thwarting the benefits of the pilot.
Some pedestrian scale improvements such curb lane expansions of the sidewalk will not occur until better weather.
We also know from City traffic counts that streetcar riders make up the majority of the people moving along the full length of King Street, commonly cited as 65,000+ (TTC statistics from before the 514 was introduced), or 72,000+ (Ben Spurr, Toronto Star), as compared to approximately 20,000 cars containing on average 1.08 people.
There have been calls in the media by some business owners to make significant reductions to the pilot's scope, due to unverified claims of significant drops in business. It is entirely possible for street changes to impact retail business, both positively and negatively. The City of Toronto is gathering credit card data from global payments operator Moneris to check impacts both within the pilot area and in comparable unchanged areas, as part of their pilot evaluation process. This evidence will be very helpful to evaluate the improved transit performance and the overall King Street neighbourhood impacts.
One commonly voiced complaint in media is a perceived lack of people. Without an official cordon count, it is very difficult to quantify this, but some have suggested other significant differences which would be a factor:
Weather (Measured high temperatures below zero degrees)
Dec 2016 to 18 Jan 2017: 14 days below 0 and 0 days below -10
Dec 2017 to 18 Jan 2018: 29 days below 0 and 7 days below -10
Royal Alexandria Theatre dark twice as many November-December days as in 2016
2016's soon-to-be Broadway hit Come From Away, contrasted with 2017's family production of The Lorax
Another commonly-cited but inaccurate concern is a lack of parking. Approximately 7,800 spaces exist within a few hundred metres of King Street, but only 180 spaces (2.3%) were removed. For comparison, the average parking space at Yorkdale Mall is about 100 metres from its nearest entrance.
CodeRedTO strongly supports improved transit in principle, and supports maintaining the integrity of the King Street Pilot such that a full year of conditions can be assessed. Road construction, TIFF, summer storms, and more are still to be evaluated. Minor adjustments to the pilot area, as the City has already completed in multiple instances, are a reasonable approach to ensuring that the overall goal of dependable and higher-performing transit 24/7 is retained.
Tell your City Councillor your opinion on making public transit faster and more reliable by calling 311, or follow these links to find contact information for your councillor and the Mayor.