Guest post by CodeRedTO volunterer Thomas Dybowski
With Toronto's downtown core experiencing persistent growth, it is important to address outstanding issues in preparing the city for future growth. TOcore strategy is a City of Toronto plan created to address such issues by introducing seven areas of focus to improve the current function of the city. Meetings are held regularly by the City of Toronto, where stakeholders from local organizations and BIA's provide feedback in improving the planning process. Opinions are raised over a wide array of topics, ranging from sustainable development, to mixed use development; with a common goal of creating a more welcoming and livable city in the future.
Current changes in Toronto's downtown core, including adjustments in mobility, transit and infrastructure development will serve as a major influence on how the city will function in the future. One of TOcore's primary strategies is creating an accessible and mobile downtown core, with a focus directed towards surface transit such as LRT's (Light Rail Transit). Accommodations are also made for alternative modes of transportation through development of bike lanes, parking, and bike sharing programs. This program would provide relief to highly congested streets such as King Street, which will be undergoing redevelopment starting 2017.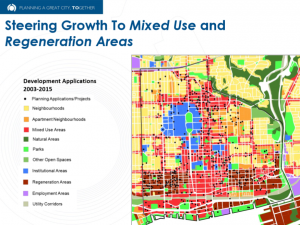 King Street is one of few streets in Toronto which is seen as having insufficient transportation, through limited methods of mobility and lacking transportation services containing major delays. Changes are being implemented in terms of improving services, with busses being available more frequently, alongside increased parking restrictions, where liming street parking to allow greater flow of traffic. These are some of the changes presently being worked on, with further studies taking place in analyzing the regulation of traffic and how these changes may influence the area.
The plan also focuses on mixed use development, where areas with low and medium density are focused on becoming more walkable and accessible; with close access to local stores, services, and amenities. Further improvements in transportation would also lead towards greater accessibility towards the provision of services.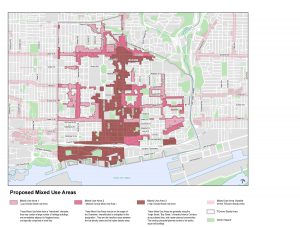 High density areas such as the downtown financial district are directed on providing walkable distances to Union Station and the PATH network. Additionally, creating more business centers in other parts of the city would provide easier mobility and accessibility to jobs. This also prevents further clustering of particular land use types in specific parts of the city and provides relief towards congestion by spreading development through different uses.
The goal of the TOcore strategy is to be fully implemented by 2041. Consultations will continue to take place into the future with updates on TOcore's progress, as well as feedback from local residents and organizations. Plans and studies will progress, with different divisions of the City of Toronto working alongside organizations and residents, with a common goal of making Toronto a healthier, better transit oriented and more accessible city.
Thomas Dybowski is a student at the University of Toronto in the Urban Geography and City Studies program.