Some members of city council, and some candidates for council, have recently made statements misrepresenting the current plan for modern light rail transit (LRT) along Sheppard Avenue East. To assist residents, CodeRedTO has assembled the facts, resource links on the plan, and we have calculated how alternate options would look and perform.
Learn more about light rail transit by visiting our Resources page!
After reviewing reports from the City of Toronto and Metrolinx, our key findings:
Given the current $1 billion budget committed by the province of Ontario and the government of Canada, less than 3km of subway could be built, as opposed to about 12km of modern light rail transit (LRT).
If only 3km of subway were to be built, it would add only one new stop east of Victoria Park, and have just two new stations.
The Sheppard East LRT project already has a completed Environmental Assessment, and will be under construction from approximately 2017-2020. Any subway would require at least 2-4 more years before construction could begin, with all planning starting from scratch.
The City of Toronto and Metrolinx have a signed legal agreement to deliver this LRT line that includes the province paying for all construction costs. Any change to another mode would require renegotiation and penalties due to contract cancellation with suppliers.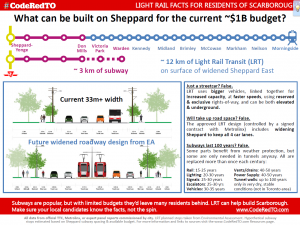 The facts clearly show that a subway along Sheppard East would be shorter, would take longer to build, and would serve fewer residents. But more significantly for Scarborough residents, our calculations show that it would save far less time for a rider traveling between Morningside or Malvern and any new subway station near Warden.
Buses traveling in mixed traffic along Sheppard East can take 40 minutes to travel this distance (though of course this varies by time of day). While a subway would provide fast travel over 3km of this distance, the transfer time between bus and subway (estimated by Google at 4 minutes on average) means that the average rider's travel time would drop by as little as five minutes.
However, the light rail planned for Sheppard East uses reserved rights-of-way so transit vehicles are never stuck behind single-passenger cars, and are able to travel 25-40% faster than the current buses, consistently in all traffic and weather conditions. Our calculations showed that riders could travel from Morningside to Yonge Street in ten minutes less, with a level transfer on the same platform at Don Mills Station.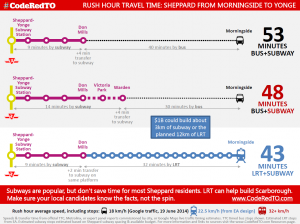 Download our fact-check flyer now, and share with candidates at your door to ensure they have the facts.
Find out more by visiting our Resources page!